This "Case Type 3" is designed for the user who needs high a performance network machine, but with a lower storage requirement than the Type 1 Case.


The Odroid H2 board has a fanless design - and this case is designed to exhaust the heat from the processor out through the 92mm cooling hole at the top of the case.


For extra cooling you also can install a 92 x 92mm standard PC cooling fan into the exhaust hole if larger processing is being used.
Supported Storages:
On-board eMMC 5.1 module
On-board M.2 NVMe (NGFF-2280)

Up to 2 x 2.5" SATA HDD or SSD (Max height : 15mm)

"SATA Data and Power Cable" must be purchased separately.
The disk drive mounting screws (M3x6mm) are included in the package.
The power and reset switches are accessible through the hole at the front
Optional power on/off switch (diameter 16mm) can be installed at the front
Dimensions:
128 (L) x 157 (W) x 106 (H) mm
Package contents: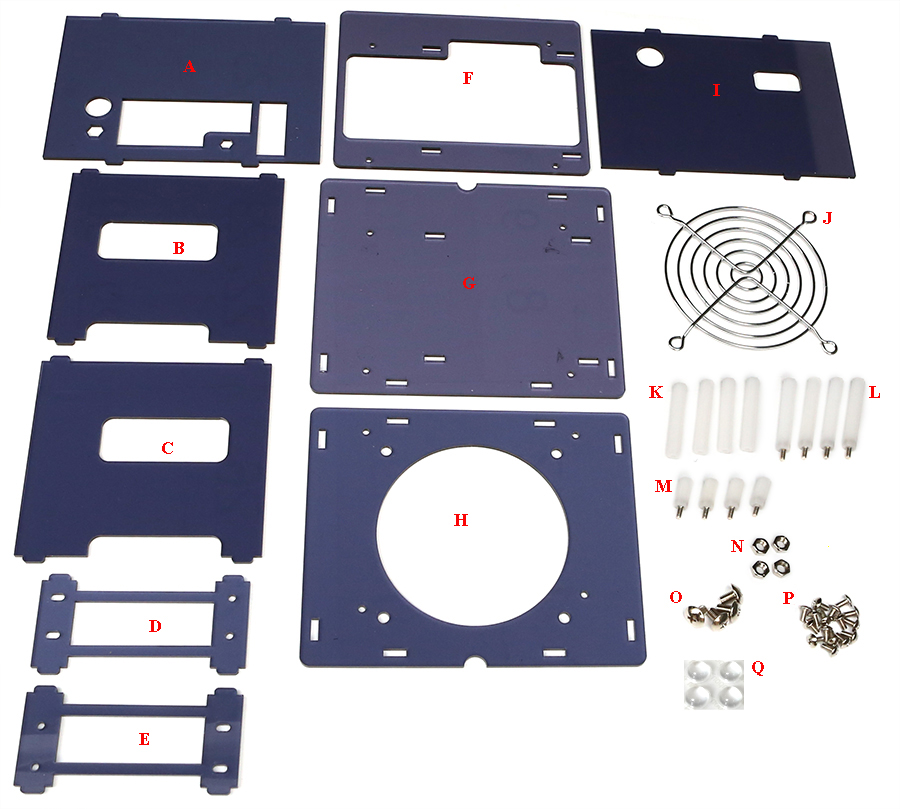 A. Rear panel
B. Left Panel
C. Right panel
D. 2.5" SATA HDD/SSD bracket
E. 2.5" SATA HDD/SSD bracket
F. Inner bracket
G. Bottom panel
H. Top panel
I. Front panel
J. 1 x 92mm Stainless Cooling Fan Grill
K. 4 x 40mm (F) PCB Supports
L. 4 x 40mm (M) PCB Supports
M. 4 x 15mm (M) PCB Supports
N. 4 x M5 Nuts
O. 4 x M5 Truss Head Bolts
P. 16 x 6mm M3 Truss Head Bolts
Q. 4 x Rubber Feet (Round / Clear)
Odroid-H2 Case 3 [77804]
Brand: Hard Kernel
Product Code: Odroid-H2 Case 3
Availability: In Stock
Related Products